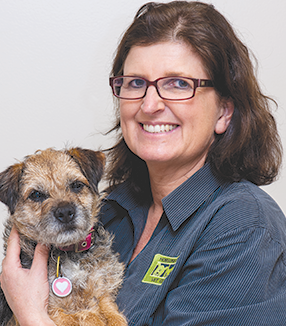 Philippa Molnar
Vet
Pip is an experienced small animal vet who enjoys treating all the furry friends including rabbits and guinea pigs. She has a special interest in helping dogs and cats with behavioural problems.
Pip lives on a small acreage in Gisborne with her three dogs, three cats, four chooks and spends most of her time outside of work riding her four horses
Nathalie Jugovic


Vet

Nathalie is an experienced small animal vet. She has a special interest in emergency medicine and ultrasound and loves the challenge of treating our sickest patients. Nathalie is also a certified veterinary acupuncturist.

She has a chocolate labrador Oska and two cats Lucy and TomTom
David Elliot


Vet

David has post-graduate qualifications in small animal medicine and surgery, and is a quarantine accredited vet. David enjoys all aspects of being an animal GP

At home, David has a female whippet, Pippa, and two male cats, Sterling and Rufus.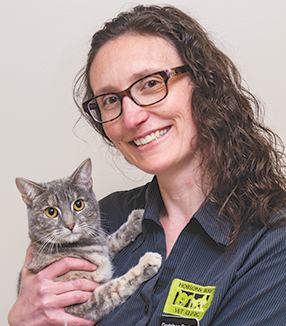 Gretchen Szabat


Vet

Gretchen has post graduate qualifications in conservation of wildlife and enjoys seeing any birds and wildlife that comes to the clinic. She is currently in training for certification in Canine Rehabilitation so she can better treat post-operative, arthritic and injured patients.

She has a Rhodesian Ridgeback cross dog as well as three cats Basil, Speedy and Zelda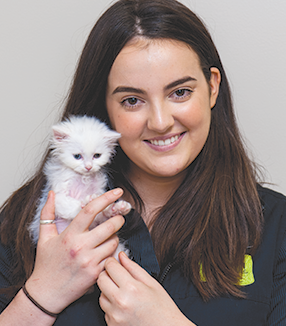 Camille Gaylor


Vet Nurse

Camille has had a passion for animals since a young age. She started at Hobsons Bay Vets working in our cattery and is now a much valued fully qualified vet nurse

Camille owns an Australian Shepherd called Ronnie and a cat called Shady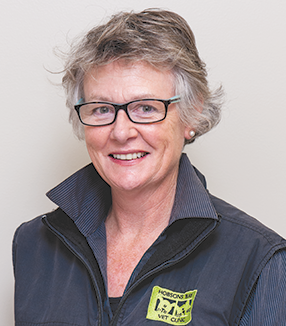 Kim Hastie
Vet Nurse
Kim is an experienced Veterinary Nurse and is also our practice manager, general organiser and finder of everything.
Kim is a very talented golfer and passionate Melbourne supporter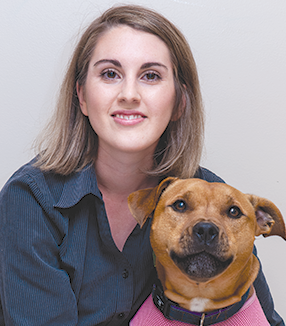 Krystina Pallikaros
Vet Nurse
Krystina is a fully qualified Veterinary Nurse that began working here at Hobsons Bay Vet in 2011. She has a particular passion for canine medicine, as well as having a keen interest in client and patient care. Krystina is also your social media manager particularly for our Facebook site
Krystina has a Female Staffy called Belle as well as a charismatic Indian Ringneck Parrot named Archie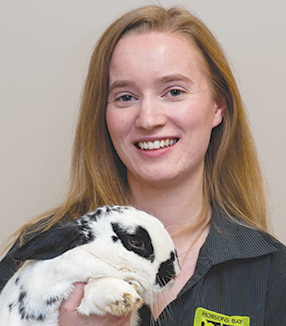 Laura Steer
Laura began working in the hbvc cattery in 2013 until she became a qualified vet nurse in 2015. Laura is passionate about all aspects of nursing and has a particular interest in rabbit care.
Laura has a GSDX dog called Lily along with two rabbits Crusoe and Luna

Maddie Bewley
Vet Nurse
Maddie is one of our most valued and experienced nurses, who began working at Hobsons Bay Vet Clinic in 2009. Maddie's passion has always been animals and animal welfare and has raised many orphan possums and kittens. Maddie is also a passionate volunteer for Sea Shepherd Conservation.
Maddie owes Lola a Bull Arab cross, Clara a Dachshund cross and Wylie an Australian Shepherd who does agility, herding and tracking sports.  Maddie also has three cats Colin, Otto and Bonnet as well as Spike the goldfish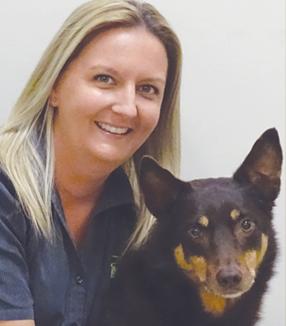 Wendy Black
Vet Nurse
Wendy is one of our senior nurses with over 17 years of experience. She runs our puppy classes and is a wildlife carer for injured birds of prey.
Wendy has a Kelpie named Banjo and three cats Tidy, Henry and Thunder as well as rescue chickens